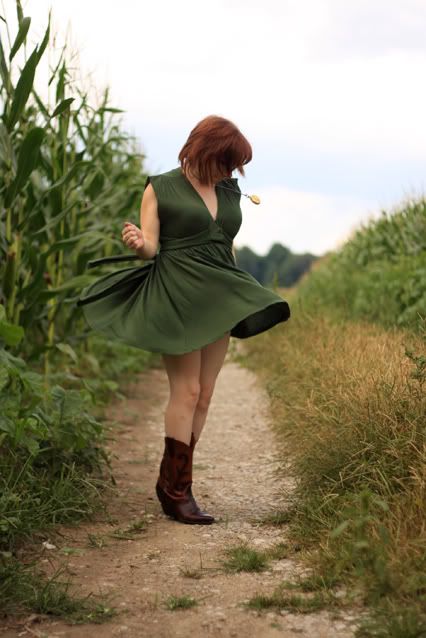 This dress is very old and by very old, I mean three or four years old. I bought it on sale at Urban Outfitters long before I was "fashionable". Right before a Feist concert. My friend and I had front row seats and it was beautiful. It's not often that cowboy boots go with my outfits, but when they do, I'm all over it.

For my birthday, I woke up way too early and went to breakfast at this new breakfast/bakery. We ordered a chocolate croissant (European style!) to go and they serve Angel Falls Coffee (the best coffee in Akron) and for my main entree I had a Nutella crepe topped with crème chantilly and fresh fruit. Can we say BEST. BREAKFAST. EVER? My sister and boyfriend had french toast infused with Jameson and topped with crème chantilly and fruit. We shared a potato croquette and it was magical. I love breakfast and food in general.

I'm not much of a bag lady. I'm under the assumption that the bigger the bag, the more "baggage" the lady carries around. Both literally and in the sense of her "mental baggage". I know this is illogical, but I believe it. I carry a wallet and my car keys on a bracelet. I'm minimalistic. This bag was given to me by a lovely red headed beautiful girl named Liz. Seriously. This girl has the best head of hair and this bag is tiny, practical, and fun.

Oh, and I got my hair done! I went to the salon my friend works at and we had this grand plan for it. She went to do the second step and realized a second too late that her co-workers hadn't properly cleaned a brush and my entire head was ruined. She fixed it, but definitely not our original plan. Oops.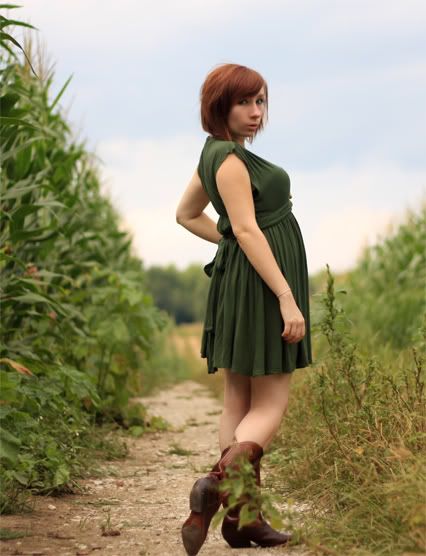 Outfit details
Dress: Urban Outfitters
Boots: Thrifted
Necklace: Vintage shop in Denver
Bag: Given by a friend