I saw this tutorial on
Wild Flower
. She used oxfords and I WISH I had a pair to glitter up, but I didn't. So I picked the least worn flats out of my closet and here we are.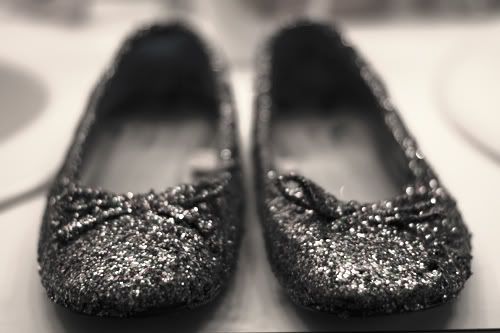 What you'll need:
-Pair of shoes
-Mod Podge Glue with a Gloss Finish
-A bowl
-Sponge brush
-GLITTER (any kind you'd like! I suggest buying the biggest jar you can find)
-Painters tape (tape the bottom and insides unless you want glitter all over your shoe)
-Water proof shoe protection
-Newspaper (or a bag) to put the shoes on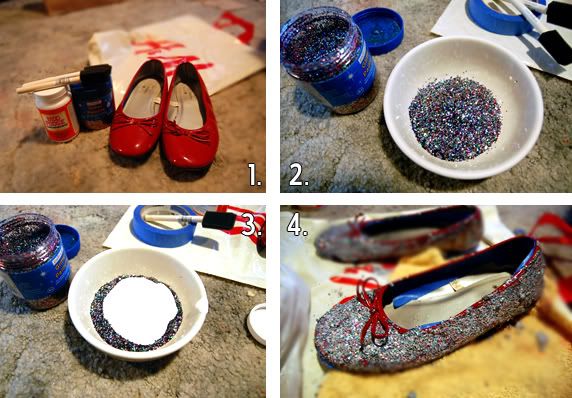 Total cost
: $11. Unless you have some of the products.
Total time
: 2 or so hours. Depending on how many coats you do/how long you wait in between.
1. Tape off the shoe.
2. Mix the glitter and glue together in the bowl. You will most definitely need more glitter than you imagine. Go glitter crazy.
3. Mix and start applying to the shoe. This is the messy part. Let sit for twenty minutes and go back for round two and three.
4. Once the shoes are completely dry go back over them with just glue to make sure the glitter stays in place.
5. Let shoes dry. Take outside and spray with the waterproofing.
This DIY is quite messy unless you're one of those really clean perfectionists. Otherwise be prepared to get your hands covered in glitter.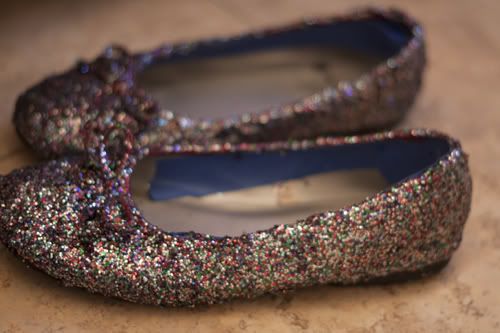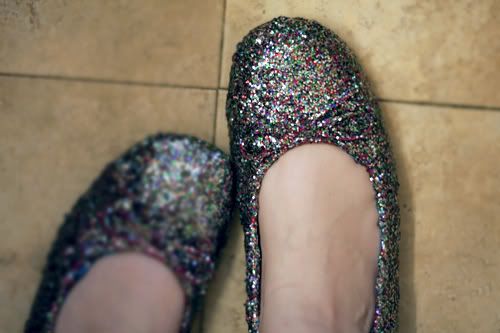 VOILA! Glitter shoes! Be sure to check out
Kaylee's
original tutorial. Her shoes blow mine out of the water!