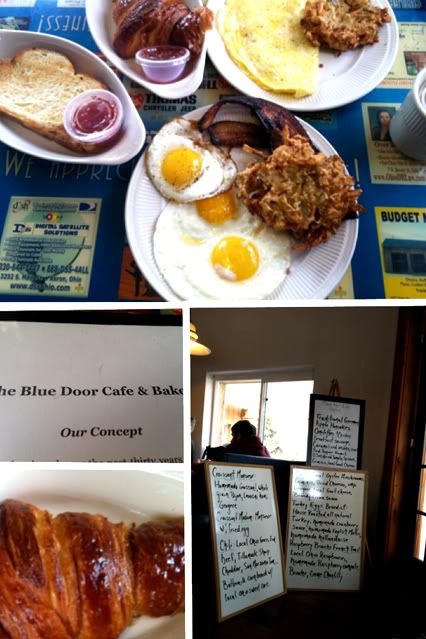 I like food. A lot. In fact, I eat a million small meals a day and even then I'm still hungry. I'm always baking, occasionally cooking, and more than that I'm always on the hunt for a good affordable place to eat in Akron or its surrounding areas.

A friend told me about The Blue Door formally the Golden Goose located in Cuyahoga Falls. The restaurant is comfortably sized, cozy, and family owned. The menu is on the smaller side, but there are a plethora of daily specials. The menu is largely based around seasonal items and all of their produce (eggs, veggies, milk, etc) is organic and locally grown/produced. The food is made-to-order, high quality, and delectable. I've had Nutella crepes, omelets, croquettes, and Jameson (yes, that Jameson) infused french toast. Oh, and did I mention they serve Angel Falls coffee? Which is one of the best coffee houses in Akron.

In addition to serving fabulous breakfast there is also a bakery. A bakery that serves fresh European style treats. I've never been to Europe, but the bakery definitely has the best chocolate croissant I've ever had. It's flaky and the chocolate melts in your mouth. The plain croissant is just as delectable and some meals come with the option of a croissant. The cinnamon twists are incredible and I don't like cinnamon on my pastries. The pastries are best eaten that day, but still tasty the morning after.

The owners work as hard as their workers. Running the food to the tables, cashing people out, and stopping by every table to ensure the breakfast is top notch. Upon cashing out, the wife (part owner) has a full on conversation with each customer about their day and more importantly the food. The staff is as comforting as the food is delicious and it's affordable.

Not a breakfast person? There's also a scrumptious lunch menu.

The Blue Door
1970 State Road
Cuyahoga Falls, Ohio
Phone: 330-926-9774
Hours: Wednesday-Saturday 7:00 a.m - 5:00 p.m.
Sunday 7:00 a.m. - 3:00 p.m.

**Photos taken with my phone. Hence the quality.