It's no secret that I love ABC Family shows. I love the innocence, the charm, and currently, the style. Within two minutes of this show, I was completely in love. The Summer premiere is Tuesday and I absolutely cannot wait to see how her style has evolved and how she can inspire me.

The plot is pretty simple: Jane is a teenaged girl who applies for an internship at a large fashion house. At the interview, they mistake her for the new assistant to the head of the fashion house. She's too stunned to speak up and she finds herself as a sixteen-year-old with a dream job making 20,000+ a year. The show is about the up's and down's of living a double life. Her job is obviously a secret because high school kids can't have dream jobs. But what I like, is that the show digs deeper than the surface.
The main character, Jane, is absolutely stunning. Her hair is beautiful and I believe, naturally curly. It's one of her best worn accessories which is saying a lot because her accessories are amazing. Her style appeals to me because it's incredibly feminine, but also very edgy. More often than not, she mixes frilly skirts with feminine chiffon tops. The tops contain quirky prints and adorable collars. While she mixes it with large belts with hardware, leather jackets, and edgy chic shoes.
When I watch most shows, the styles are way out of my league and budget, but Jane's style is nothing of the sort. Her outfits, both at school and at the fashion job, are well put together, easily re-created, accessible styles.

It's a wonderfully fun and addicting show with top notch fashion that appeals to both my sense of style and my budget. What's there not to love?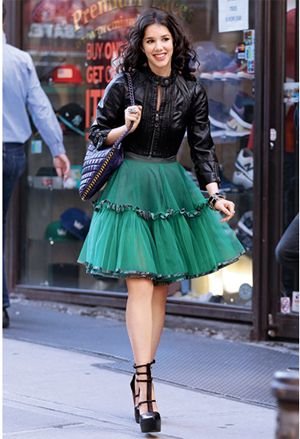 As an added bonus, ABC Family shares up close fashion blog style photos of her outfits and what designer/stores they are from. It's seriously a dream. Check it out here. If you have Netflix, the first season is currently streaming. Go watch it. I know you want to!